Technology is magical. Once upon a time, we had to tap our way slowly and methodically to send and reply to messages. Who would imagine that one day we could talk to the phone and quickly send a voice message? As we all know, it becomes very easy to send voice messages now. But how do you do that specifically on your iPhone?
In this article, we will give you detailed instructions on how to send voice message on iPhone. Apple's audio message feature and third-party texting apps allow you to send voice messages.
Part 1. Send voice message in iPhone
In the Messages app, you can enable Audio Messages (also called Narration) to send free voice messages from your iPhone to another iPhone, iPad, or Mac user who has configured Messages to use iMessages. Sending free messages is only possible when you use the messaging app on Wi-Fi, but when you use it through your data, you may be charged. Not many people have explored this new way of sending voice messages, and I'll show you how to use this option.
Step 1: Launch the Messages app on an iOS device and open the new iMessage thread.
Step 2: Use audio recording option to record voice note.
Step 3: When the audio recording is finished, you will see three options on your screen: Send, Play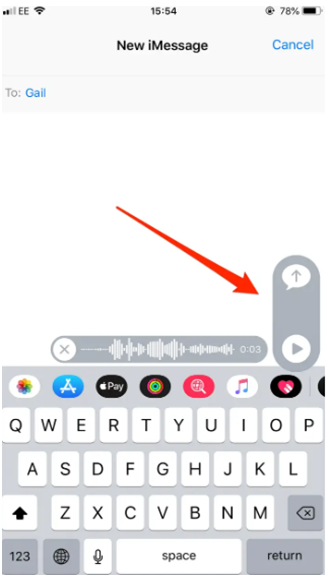 and Cancel. If you'd like to send or delete this voice message, click the play button to preview your audio message.
Once the message has been sent successfully, the recipient can click the Play button so that he/she can hear the received message. In the same way, you must follow the same steps if you receive the message via iMessage. In this way, you can send a voice message using the audio message option on your iOS devices. Voice message in iPhone is one of the easiest features of iPhone.
Part 2. How to do a Voice Message on iphone with Third-Party Messaging App
Apart from the built-in voice messaging feature in iMessage, you can use a third party texting app to send a voice message. In recent years, a great number of text message applications have developed their voice messaging features. Here are two of the most popular ones, WhatsApp and Skype.
How do you use voicemail in WhatsApp?
You can send recorded messages instantly using the voice messaging feature. All voice messages are automatically downloaded to provide the most efficient experience.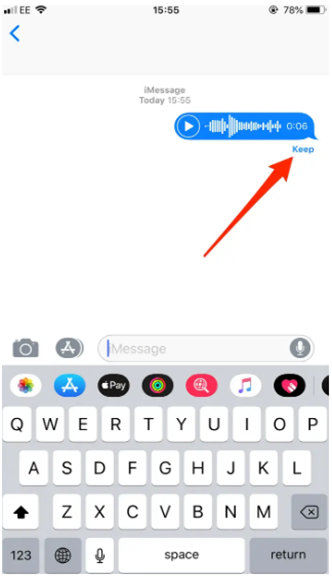 Hold down the voice message button while pressing it to send a voice message. Apple's iPhone replaces the send button with a microphone icon to represent Voice Messages.
While recording a voice message, you can slide left to cancel immediately.
When your voice message is played on the recipient's phone, the microphone icon turns blue.
How to record voice message on iPhone via Skype?
You can activate voice messages for free from your Skype account, follow the steps below to send a voice message on Skype.
Sign in to your Skype account.
Select call forwarding in manage feature app.
Turn on "Forwarding", then select after how many seconds you want to forward calls.
Select "Voice Messages" and then "Confirm". (IPhone call forwarding not working?)
In this article, we mainly showed you two methods to send a voice message on iPhone, that are how to do voice message in iPhone via third part and how to record voice message in iPhone via Skype.